Vivez les Cévennes
Au pays de la châtaigne, du pélardon et des toitures en Lauze il fait bon vivre. Les Cévennes vous ouvrent leurs bras et vous entraînent sur leurs routes tortueuses à la découverte du Parc National des Cévennes. Une nature préservée où cohabitent les hommes, la faune et la flore, et qui fait de ce bout de Lozère un lieu d'exception à l'allure enchanteresse. Les Cévennes sont un lieu propice à la découverte et aux rencontres. Amis randonneurs, pêcheurs et amateurs de sensations fortes et des grands espaces, vous êtes au bon endroit !
Nature that is both beautiful and unruly, between Aigoual and the Mont Lozère, to the south east of the region, the land of the Cévennes presents a stark contrast between the harshness of mountain life and the mildness of the Mediterranean climate. This harsh, history-filled land was the stage for the Camisard war and stronghold of the Huguenots in the early XVIIIth century.
This is the land of shale and furrowed valleys, steep rocks, abruptly downard sloping contours, a great many of which run into streams and torrents. This is also the land of scrub, beech forest, fir plantations, oak groves and above all, chestnut groves. Despite its harshness, the area still provides as quiet and beautiful natural setting where countless hamlets with squat houses have breathed life into these impenetrable mountains. On barren slopes, the terrace system has enabled cultivation of the "golden tree", the famous mulberry bush which, together with the arrival of silk, contributed to the wealth of the region but also the "bread tree" or chestnut tree, symbol of the Cévennes and food for generations of Cévennes inhabitants.
From Florac to Saint-germain-de-Calberte, land of winding roads, the Cévennes are packed with picturesque tours with unrestricted views and admirable sites. This is a dream location for beautiful and cultural breakaways.
Centre d'interprétation
FLORAC TROIS RIVIERES
Le Parc National des Cévennes est le seul habité dans son cœur (800 habitants permanents), espace protégé, parmi les 10 Parcs nationaux de France. Il veille à la protection des milieux naturels et du patrimoine culturel hérités de 5000 ans de...
Foot
PONT DE MONTVERT - SUD MONT LOZERE
I've spent my life looking for a pure and exhilarating adventure like the travellers of old used to go on. This morning I found myself in a strange, wooded part of Gévaudan…I was disoriented and felt like the first man to set foot here. My wishes...
Coups de cœur
Atelier Tuffery : le jean Made In France

Parc National des Cévennes
Road trip
Sur les traces de l'écrivain Robert Louis Stevenson
"7 jours de marche et plus de 110kms sur la partie Lozère du GR70, des paysages à couper le souffle, de belles rencontres et 2 derniers jours idylliques avec Pablo, un compagnon de route magnifique !" Benoît, auteur du blog Des Yeux Plus Grands que le Monde. Road trip à découvrir sur son blog !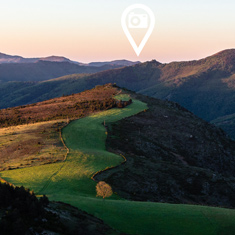 « Les monts de Lozère se développent quasiment à l'est et à l'ouest coupant le Gévaudan en deux parties inégales. Son point le plus culminant, ce pic de Finiels sur lequel j'étais debout, dépasse de cinq mille six cents pieds le niveau des eaux de la mer, et, par temps clair, commande une vue sur tout le bas Languedoc jusqu'à la Méditerranée. » Robert Louis Stevenson. Pour organiser une journée photo en Cévennes, suivre les incontournables cévenols.
Idées de circuits à réaliser
Témoignages
Ils en parlent mieux que moi ;)
Ca vaut le détour

En savoir plus
Les Cévennes : Pays de contrastes
Le pays des Cévennes présente un contraste fort entre rigueur de la vie en montagne et douceur du climat méditerranéen. Les conditions météorologiques et les paysages offrent une multitude d'activités de pleine nature pour d'agréables vacances en Cévennes, et ce, quelque soit la saison. Nature belle et rebelle à la fois, entre Aigoual et Mont Lozère, au sud est du département, cette terre de tradition est célèbre pour son pélardon, fromage au lait cru de chèvre, son architecture avec les maisons en toit de lauzes et son histoire des Camisards.
C'est le pays du schiste et des vallées ravinées, des rochers escarpés, des reliefs en pente raide au bas desquels vagabondent quantité de ruisseaux et de torrents. Lors de votre séjour en Lozère, vous découvrirez une nature secrète et belle où d'innombrables hameaux aux maisons trapues ont insufflé la vie à ces montagnes impénétrables. Le système de terrasses a permis de cultiver l"arbre d'or", fameux mûrier qui avec l'aventure de la soie, a fait la richesse du pays mais surtout "l'arbre à pain" ou châtaignier, symbole des Cévennes et nourriture pour des générations de Cévenols. La gastronomie du pays est riche et propose de nombreuses préparations culinaires : soupe de châtaignes au lait ou au vin, confiture, terrine, gâteau, tuiles, pain... Une véritable terre pour les plaisirs de la table ou simplement du pique-nique sous les châtaigniers.
Une échappée belle et culturelle
Créé en 1970, le Parc National des Cévennes travaille à la conservation des espèces animales, végétales mais aussi au développement harmonieux entre l'homme et son milieu. De Florac à Saint-Germain-de-Calberte, pays des routes sinueuses, les Cévennes regorgent de circuits de randonnées pittoresques aux vues imprenables et de sites admirables. C'est un endroit rêvé pour des échappées belles et culturelles.